Tennis Court Re-Surfacing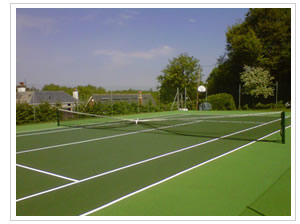 Colour Coated Macadam Surface
By far the most popular surface with its ease of maintenance, good looks, ease of installation and subsequent value for money.
Macadam Surface
Installed in the same way as our colour coated surface, however the macadam court is left to naturally fade from its black colour to a soft grey and does not benefit from the protection of the colour coat.
Artificial Grass Carpet
These carpets come in a wide range of options but are generally sand filled and are laid directly onto macadam surfaces after preparation works are carried out.
Artificial Clay Surface
A carpet system using special fillers to give a realistic clay surface feel.
| | | |
| --- | --- | --- |
| | | |
| Artificial Grass Carpet | | |